---



‧ISAGO


TIAS attended the ISAGO registration in Oct. 2011. Being the first ground handling company to get this honor in Taiwan. Yet, TIAS successfully achieved the reexamination of ISAGO registration on 9th October 2013 and July 2015.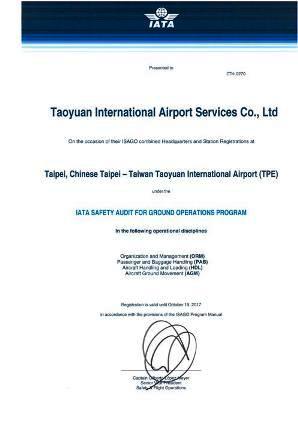 ‧ISO9001


To enhance our quality service, TIAS was committed to attain the ISO 9002 accreditation certificate under the efforts of all staff in May, 1998.
In 2003, TIAS also passed the stringent audit and successfully upgraded to the ISO 9001/2000, which was awarded by BSI, an internationally recognized quality assurance bureau.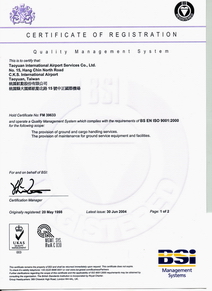 ‧Member of IGHC(IATA Ground Handling Council)


As a member of the International Air Transport Association Ground Handling Council (IGHC) in 1996, TIAS is able to exchange and share its knowledge and expertise of ground handling services with other service providers. We therefore keep pace with industry developments, and offer the best standard services to our clients.